All of our entrees are served with your choice of two sides unless noted.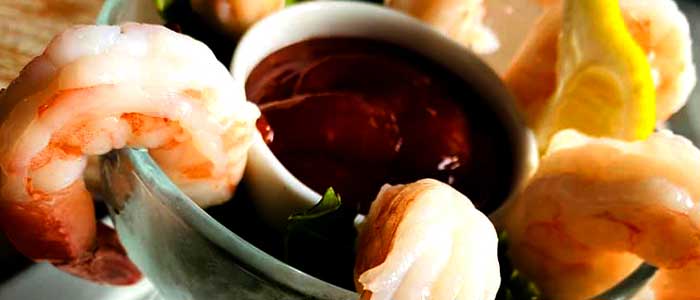 Tater tots topped with our chili, green onions, cheddar jack cheese, jalapenos, sour cream, topped with a tower of onion rings 12.75
Jumbo scallops drizzled with a truffle balsamic 17.25
10 Jumbo golden wings served with your choice of two dipping sauces and celery sticks. 15.50
Sauces: BBQ. BBQ Honey, BBQ Spicy, Boom Boom Sauce, Buffalo, Sweet Chili
Marinated diced tomatoes and fresh basil, topped with fresh goat cheese on ciabatta bread 11.50
Sirloin tips grilled to your liking served on top of toast points with mixed greens, green onion and drizzled with Kingston's sauce and A1 14.50
Homemade krab stuffed button mushrooms 12.50
Lightly battered green tomatoes with melted fresh mozzarella, fresh basil, and a drizzle of balsamic reduction. Marinara for dipping 12.50
Served with chips, naan bread, carrots, celery, cucumber, tomatoes 12.50
6 Succulent shrimp fried golden brown and served with a sweet chili sauce 14.25
3 Soft shell tortillas with blackened mahi, jalapeños, shredded slaw in a cusabi sauce, pineapple salsa, monterey jack cheese and sprinkles of sesame seed 14.25
Chips smothered with monterey jack cheese, tropical salsa, jalapenos, green onions, sour cream and guacamole
Chicken 14.25
Steak 15.00
Chicken & Steak 15.50
White and black sesame seed crusted, yellow-fin tuna with peanut sauce. Served with won tons, cucumbers, wasabi sauce and pickled ginger 16.75
Lightly breaded nuggets with cajun remoulade dipping sauce 13.50
Fresh spinach, jalapenos and artichoke hearts in a creamy garlic sauce served with chips 12.75
4 Duck and sweet corn wantons, with cream cheese and drizzled with raspberry sauce 13.50
Freshly marinated chicken, cabbage, cucumber, red peppers, with a peanut sauce drizzle 15.25
Hand stuffed jalapenos with cream cheese wrapped in bacon and fried to perfection 12.50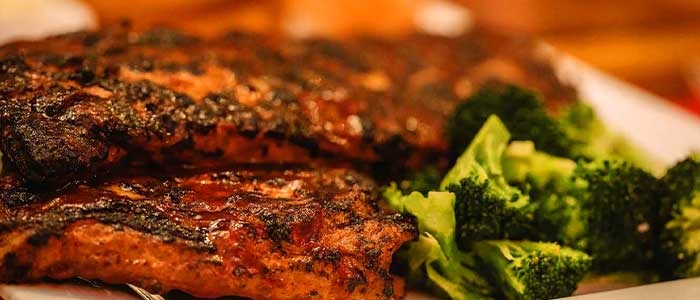 Aged a minimum of 21 days, Accompanied with two sides
8 oz Beef Tenderloin 31.75
Two 4 oz pan-seared filet mignons with a brandy, Dijon, mushroom, caper sauce 33.75
12 oz Tail-Off Rib Eye 37.75
20 oz Bone In Strip & Tenderloin 36.25
16 oz Bone In Rib Eye 36.25
Available after 4pm Friday – Sunday, while supplies last
16 oz 36.75
8 oz sliced filet cooked to your preparation, zucchini, squash, green peppers, onions and topped with soy drizzle 34.75
Cold Water Lobster Tail
28.25
Oscar Style available after 4pm
Top your steak with sautéed jumbo lump crab, braised asparagus and bernaise sauce 12.25
Grilled Shrimp 11.75
Demi Glaze 2.25
Bleu Cheese 2.25
Button Mushroom 3.25
Mushroom Sauce 3.25
Caramelized Yellow Onions 2.25
Bernaise Sauce 2.25
Horseradish Cream 2.25
Horseradish 2.25
Rare – Cool Red Center
Medium Rare – Warm Red Center
Medium – Hot Pink Center
Medium Well – Slightly Pink Center
Well Done – No Pink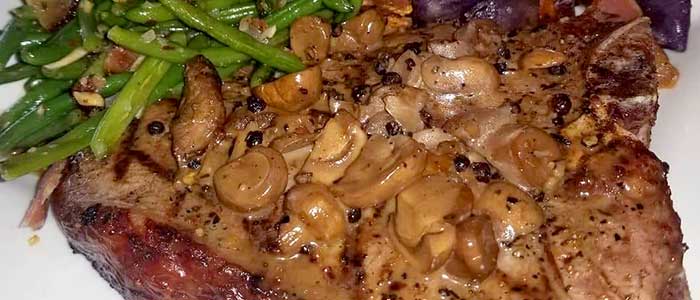 St Louis BBQ ribs with cole slaw
Half Rack 21.50
Full Rack 27.50
3 Pork tender cutlets, pan-seared with a granny-smith apple, toasted caramel whiskey demi glace 22.50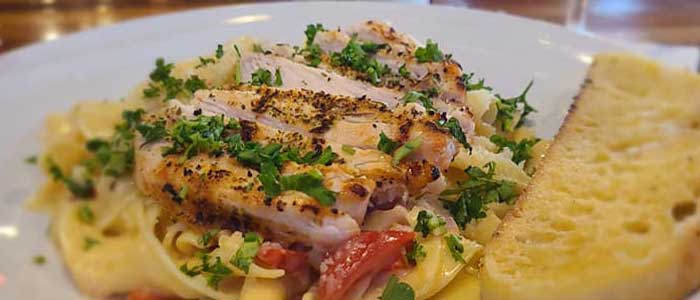 Breaded breast smothered with sweet onions sautéed mushrooms, pepper jack cheese and demi glace 21.50
Grilled chicken breasts topped with homemade spinach dip, jalapenos and parmesan cheese 21.50
Lightly seasoned chicken breast tossed in a mushroom marsala sauce 21.50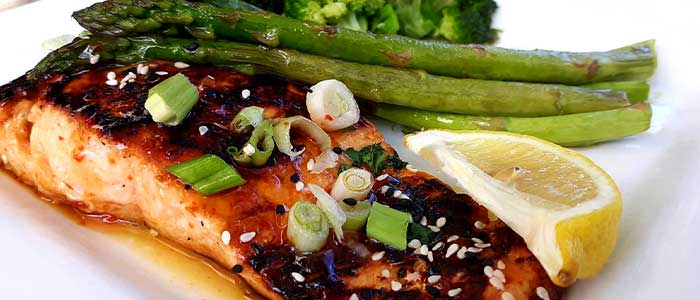 8 oz Fillet grilled moist, fork tender with a choice of blackened or lemon caper sauce 24.25
Peeled shrimp baked in a lemon garlic sauce topped with golden buttery garlic parmesan bread crumbs 24.25
6 Succulent shrimp fried golden brown and served with sweet chili sauce 17.25
Blackened skinless filet with a cajun remoulade sauce 27.25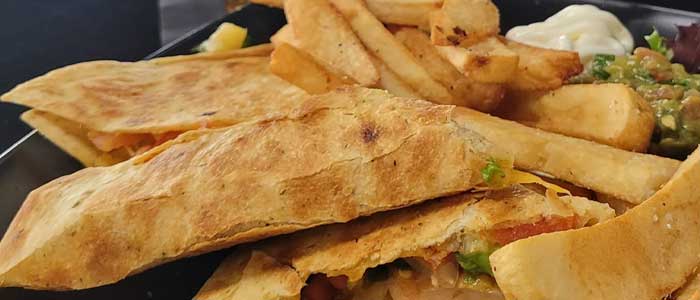 Accompanied with one side
Vegan cheese, sauteed spinach, mushroom, and garlic 12.50
Impossible patty, tofu mayo and vegan cheese 15.50
Penne noodles tossed in an impossible garlic marinara 14.50
Tomatoes, squash, zucchini, onion, pepperoncini, green peppers and topped with soy drizzle 13.75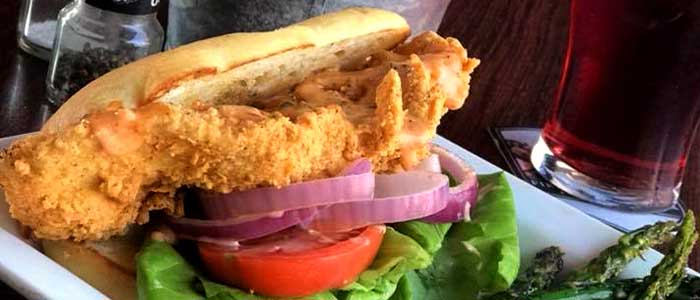 Served with choice of one side
Pork roast with turkey and swiss cheese on a grilled cuban bread with mayo, mustard and pickles 13.25
Thin slices of pastrami, stacked high, sauerkraut, swiss cheese, on grilled marble rye with stone ground mustard 13.25
On a grilled pretzel roll topped with slaw, BBQ sauce on the side 11.25
Sliced prime rib smothered in provolone cheese drizzled in garlic aioli, served with au jus 14.25
Grilled or breaded tenderloin 12.75
Breaded chicken breast smothered in our zesty sauce topped with pecan bacon, swiss cheese, on a pretzel roll. Lettuce & tomato on the side 13.25
Toasted thick sourdough, chipotle mayo, roasted turkey, crisp bacon, sliced avocado, lettuce, tomato, swiss and a fried egg 13.25
Parmesan crusted vienna white bread with fresh basil, pepperoni, tomato and provolone cheese 12.75
Seared sesame seed tuna, cucumber, ginger, drizzled with Asian and peanut sauce on ciabatta hoagie 16.75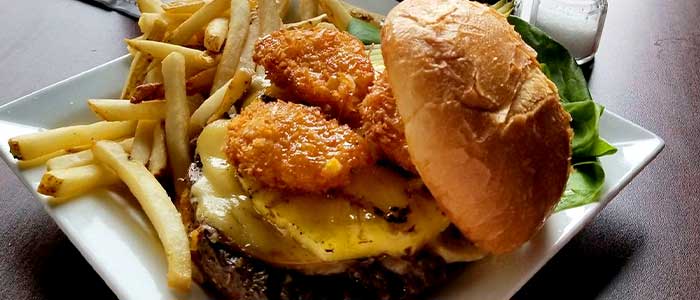 Accompanied with one side
Traditional cooked to perfection 12.75
Add Cheese 1.00 • Add Bacon 1.50
1/2 lb prime burger, pastrami, pecan bacon, 1/4 lb pork, swiss cheese, slaw, pickles, on marbled rye topped with onion rings 16.50
Smoked gouda cheese, caramelized onions and pecan bacon on a grilled pretzel roll 13.50
Cream Cheese Popper Burger
Pepper jack cheese, grilled jalapenos, chive cream cheese and a jumbo onion ring 13.50
Grilled sweet onions, swiss cheese on marble rye 13.25
Bacon, asparagus, roasted red peppers, topped with swiss cheese 13.50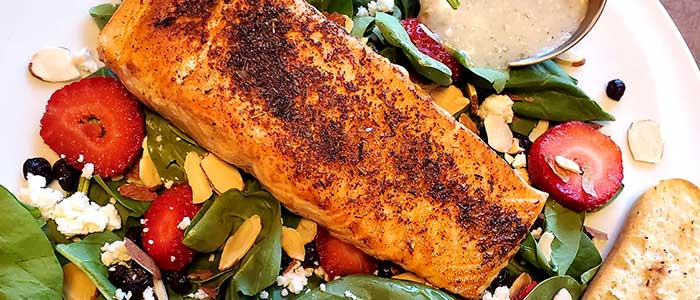 Protein additional charge to any salad. Grilled chicken, sirloin, tuna or grilled shrimp
Breaded or grilled chicken with boom boom sauce, tomato, red onion, broccoli & bacon all on top of fresh greens 14.50
Fresh spinach leaves, feta, red onion, walnuts, granny smith apples tossed in apple cider vinaigrette 13.50
Fresh greens, Kalamata olives, feta cheese, roasted red peppers, tomato, cucumbers, and red onion tossed in feta vinaigrette 13.50
6 oz. sirloin on a bed of mixed greens with red onions, mushrooms, roasted red peppers, grilled asparagus and a drizzle of balsamic reduction 18.50
Topped with bacon, tomatoes, parmesan cheese, and our housemade black pepper dressing 8.75
Fresh greens, parmesan cheese and croutons with a balsamic reduction drizzle 12.75
Bacon, grilled chicken, boiled eggs, tomato, avocado & maytag bleu cheese crumbles on top of fresh greens 14.50
Dressings: Maytag Bleu Cheese • Thousand Island • Ranch • Balsamic Vinaigrette • Honey Mustard • Oil & Red Wine Vinegar • Apple Cider Vinaigrette • French • Raspberry Vinaigrette • Feta Cheese Vinaigrette • Jalapeno Ranch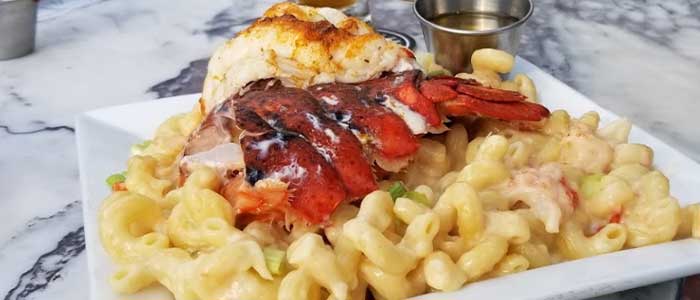 Served with your choice of soup or salad
Homemade Kick'n Mac'n cheese with topped with a full cajun style lobster tail 31.75
Lobster stuffed ravioli with petite shrimp in an asparagus and sweet pepper cream sauce 29.50
Pasta tossed with tomato, asparagus and alfredo sauce with your choice of meat 15.25
Lobster 28.25
Shrimp 8.00
Scallops 12.00
Chicken 5.00
Sirloin 8.00
Dirty Rice
Brussel Sprouts
Side Salad
Greek Salad
Caesar Salad
Broccoli
Tater Tots
Cole Slaw
French Fries
Lyonaise Potatoes
Mashed Potatoes
Cottage Cheese
French Green Beans with Bacon & Almonds
Kick'n Mac'n Cheese
Peppercorn Wedge Salad
Baked Potato
(Available after 4pm)
Asparagus
Zucchini & Squash
Bacon Wrapped Asparagus
Onion Rings
Chili
Sweet Potato Fries
French Onion Soup
Lobster Bisque
Potato Medley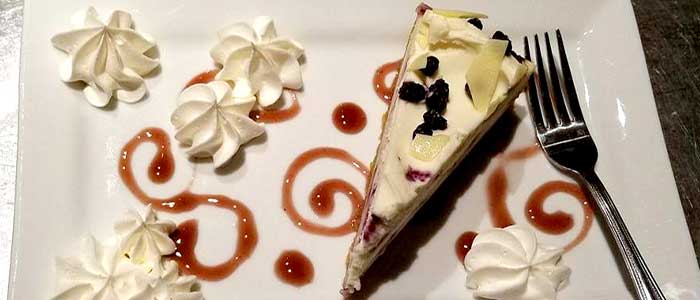 Ask your server to see our dessert tray. It displays our current selection of cheesecakes, pies and cakes.
Desserts change daily.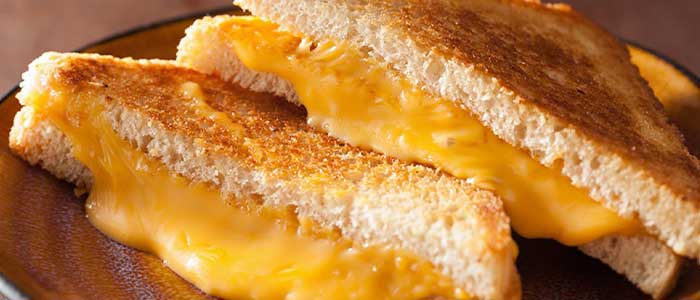 All kid's meals are served with a choice of one side & beverage.
For Children 10 and under only
Grilled Cheese 7.25
6 oz. Sirloin
Cooked to your liking 11.25
2 Chicken Strips
with choice of dipping sauce 7.25
Mac N' Cheese
Bowl of homemade macaroni and cheese 7.25
Popcorn Shrimp
with cocktail sauce 8.25
Steak Fries
Applesauce
Cottage Cheese
Broccoli
Tater Tots
Follow Kingston's Steakhouse on Facebook and keep up with our specials!